Beneficiaries
Currently profits from the sale of "The Little King and His Marshmallow Kingdom" are earmarked for donation to the Ollie Webb Center, Inc.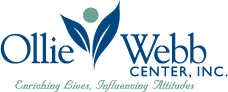 In 2005, upon the merger of the The Arc of Omaha and Career Solutions Inc., a supporting organization was formed called Ollie Webb Center Inc. to honor the memory of Ms. Ollie Webb – a woman with a national reputation as a spokesperson for self-advocacy.
The Mission of the Ollie Webb Center is: To enrich the lives of individuals with developmental disabilities and their families through support, programs, and advocacy.
For more information on the organization, click here.